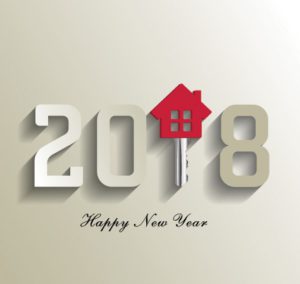 Now that 2018 is here, it's time to look ahead at what the year may bring for the real estate market. Though there's no way to predict exactly what will happen, housing experts and economic forecasters can make educated guesses based on data and historical trends. According to reports, here's what to look for in the coming year if you're planning to buy or sell a home.
Urban Land Institute and PricewaterhouseCoopers predict a "soft landing"
According to the annual report released by the Urban Land Institute and PricewaterhouseCoopers, the real estate market in 2018 will be fairly smooth. They predict that moderately priced, single-family residences will remain in demand and offer opportunities for developers and investors. Their experts believe that our low unemployment rate coupled with new economic policy could lead to slow but steady growth in the market. They also hypothesize that the homebuilding industry will see a breakthrough in technological advances, such as 3D printing and prefab homes.
Zillow highlights importance of inventory shortage
Zillow released their annual report, and according to their research, trends in 2018 will be dictated by an inventory shortage. There are 12 percent fewer homes on the market now than there were a year ago, which will drive prices up and make the market more competitive. So if you're thinking of selling – now's the time!
Of the homes that are for sale, more than half of them are high-priced, which will lead to the construction of more starter homes. Most of the affordable properties that are built will be in the suburbs, so there will likely be an uptick of first-time homebuyers and Millennials moving to the outskirts of urban areas.
Of the new homes that are built, many will feature designs that are suitable for both young families and those nearing retirement. We'll see more extra-wide hallways for strollers or wheelchairs, and frameworks that will allow for additions down the road. In addition, Zillow predicts that home prices will grow just over four percent.
More information
If you'd like more information about buying or selling a home in the Main Line, please don't hesitate to contact us. We look forward to helping you navigate the 2018 real estate market, no matter what it has in store.