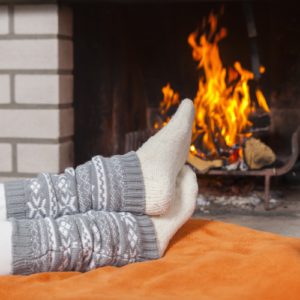 Can you feel the chill in the air? It's coming!  According to the calendar, fall is here. Get your home ready for those crisp autumn days and nights that are just around the corner. Here are our favorite tips for making your home cozy this season.
Get the fireplace ready
If you're lucky enough to have a fireplace in your home, now is the time to prep it for the cold weather. Nothing is more inviting than snuggling up to a warm fire. If you have a wood-burning fireplace, have it professionally cleaned and inspected before you fire it up for the season. For a gas fireplace, have it checked for leaks.
Hang heavier curtains
It's so nice to have light, breezy curtains up during the summer months, but as colder weather approaches, switch them out for something a little more substantial. Consider thicker fabrics that add more insulation, and go bold with a rich, warm color or pattern.
Change the bedding
As with the curtains, it's time to switch out your light cotton sheets and lightweight comforter for fabrics that will provide more warmth. Choose flannel sheets for maximum coziness and add an additional blanket for another layer of insulation. A luxurious throw blanket at the foot of the bed will make those weekend naps even more decadent and cozy.
Add blankets and throws
Evenings on the couch while watching your favorite show on TV are even better when nestled under a cozy blanket. Drape your favorite blankets and throws on couches and chairs within easy reach, or consider putting them on display by hanging them on a rustic ladder leaned against the wall.
Fill the air with seasonal scents
It's finally time to get out the pumpkin spice candles! Nothing says "festive fall" more than a warmly scented candle or two placed around your home. Take it a step further and bake a fresh loaf of pumpkin spice bread to fill your house with the heavenly aromas of the season.
Make the patio cold-weather ready
There's no reason you can't extend the time you use your patio into the cooler months. Add lightweight throws over the backs of chairs when you want to dine al fresco on a cool evening, and consider adding a patio heater to your outdoor space.
Compliments of Virtual Results